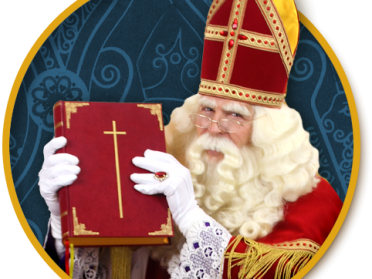 De groetjes van Sint-Nicolaas
Sint, of liever Sinterklaas,
heet eigenlijk Sint Nicolaas.
Niemand zal zijn verjaardag vergeten.
Maar hoe oud hij is, wie zou dat weten?
Iedereen kent Sint, Sint kent iedereen.
Toch is hij na 5 december alleen.
Dan komen lange, stille dagen.
Maar je hoort hem er niet over klagen.
Sint zit zich alweer suf te denken
wat hij het volgende jaar eens zal schenken.
En denken is het begin maar pas maar.
Als hij het weet, is hij nog niet klaar
Hij moet gaan winkelen, in gaan pakken,
passen en meten, knippen en plakken.
Overal ligt sinterklaaspapier
in zijn sinterklaashoofdkwartier.
Heeft u de lijst met alle namen?
Heb ik, zegt Sint, We bekijken hem samen.
Naast elke naam staat een lang verhaal.
En dat lezen wij helemaal.
Zo! Deed dit meisje heel goed haar best?
Zo! Heeft die jongen eens een kind gepest?
Zo! Heeft die papa te hard gereden
en alle verkeersregels overtreden?
In een sinterklaasgedicht
komen er dingen aan het licht.
Iemand is goed geweest, of ook wel eens een keertje slecht
en dat wordt dan eindelijk eens gezegd.
Na weken is het werk gedaan
en Sint kan naar de stoomboot gaan.
Dichter, bedankt, zegt hij, dan. Dat is klaar,
Het beste maar weer, en tot volgend jaar!!